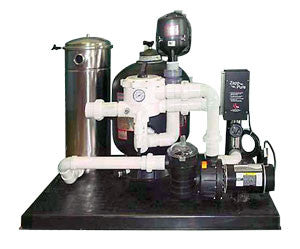 AlphaONE 2.5 PLUS System- 5000 Gallon
A big workhorse in a small package. This model is rated for ponds up to 5000 gallons with flow rates not over 70 gpm for bio-mechanical filtration. The 2.50 can handle fish loads of 125 lbs and comes complete with all 2" threaded fittings for maximum flow. Tank measures 21" X 34.5". System includes:
AlphaOne 2.50 Filter,
Zapp Pure 5 UV 
Dynamo 3/4 HP-2 speed Pump

PLUS System PrePlumbing Package that includes all plumbing, pipework, unions at all connections with all weather pad(s) ready to set up and enjoy

The AlphaBioONE Media was specially designed for this filter and this filter only. It is not something borrowed from another industry and used in the filter. Its design is unique in that it was not designed with "cross hairs" as some other specialty types of media use. We left those out because in a static bed the "cross hairs" can collect and hold debris until it becomes anaerobic. With the AlphaBioONE media there are no hidden areas for anaerobic bacteria, to harbor and stagnate, only beneficial bacteria.

FREE SHIPPING IN CONTINENTAL US! Call for international shipping information.
---
We Also Recommend