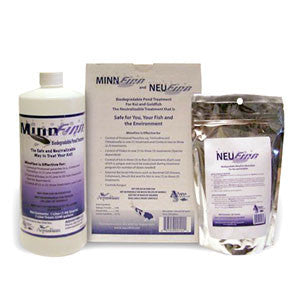 MinnFinn Biodegradable Pond Treatment
MinnFinn is a ONE HOUR treatment that is reversed with the included NeuFinn!

Safe for you, your fish and the environment!

Control of protozoal parasites (Trichodina & Chilodonella in 1 treatment

Control Costia in 2 or 3 treatments

Control Flukes in 1 to 3 treatments

Controls external bacterial infections (Bacterial gill disease, mouth rot, fin rot in 1 to 3 treatments

Controls fungus

It is important to have an accurate pond volume to insure you do not overdose or underdose this product.

Dosage rate: 1.6 fluid ounces per 100 gallons of pond water or 30.1 fluid ounces per 2000 gallons of pond water. Neufinn is used at 1.25 cups per 2000 gl

The 1 liter bottle of Minnfinn and the 387 gm of Neufinn treats 2240 gallons.
---
We Also Recommend