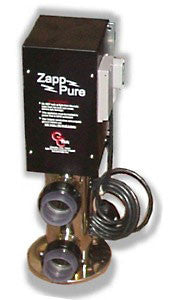 Zapp Pure UV Sterilizer - ZP-5
The Zapp ZP-5 is a Professional solution for the most serious and dedicated pond professionals and enthusiasts. Rated for 6,000 gallons and handling 2,100 GPH this high performance, high intensity, Ferrari of a UV Clarifier uses 70,000 microwatts of algae-killing power.
Pondrx.com is proud to offer the Zapp Pure line of high performance Ultraviolet Sterilizers. This exciting UV Sterilizers was designed to effectively control pond algae and work with today's low amperage pumps and high flow filters, such as the AlphaOne Koi Pond Filtration System. Sporting an impressive 4" vessel with 2" inlets/outlets means no flow restrictions. These units are truly high performance/high intensity units utilizing over 70,000 microwatts of killing power. Few UV's can make this claim.
ZP-5 23 in. tall...for ponds up to 6000 gal. with flow rates of 2100 gph
High Intensity-70,000 microwatt output
316 Stainless Steel- not 304 like most stainless units
Longlife Electronic Ballasts
Optional GFIC protector
Long 12' cord or longer by special order
2" inlet/outlet
4" Diameter keeps the water close to the lamp for maximum kill in a single pass
4" Diameter vessel is the perfect size for no restriction flow
Quartz Sleeve LeakTite fitting is all stainless, including the lock down nut - not troublesome plastic like some units.
Lamp changing is easy - takes only minutes
Adjustable pressure switch equipped for automatic easy on/off as flow demands.If your pump fails this unit shut off so you don't cook it.
Pressure switch bypass button equipped for easy testing of lamp and ballast
Can be mounted horizontal or vertical
1 year warranty on the lamp.
5 year warranty on the rest of the unit.
Polished inside and out for maximum effect- some stainless steel UV's are polished only on the outside.
ZAP 5 is 23 in. tall.....for ponds up to 6000 gal. with optimum flow rate of 2100 gph.
Draws 36 watts
These units will not nickel and dime you to death. Replace only one lamp instead of several. This could save you big bucks. Changing a lamp or ballast on these units is simple. Remove the top cover, unplug the single 4 prong connector, slide the lamp out and insert the new one and you're done. Removing the quartz tube is just as simple.

The ZP-5 is 23" tall with stainless steel construction for years of trouble-free service. For Ponds up to 6,000 gallons with flow rates of 2,100 gph.

FREE SHIPPING in Continental US!
---
We Also Recommend